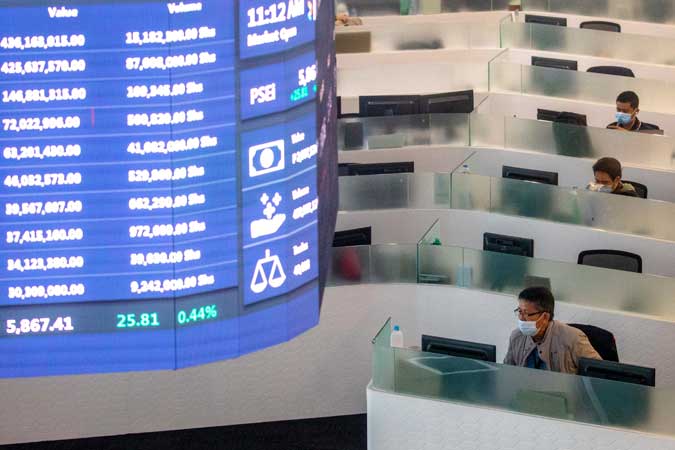 INVESTORS in the Philippine stock market will likely remain cautious this week after the country logged more cases of the coronavirus disease 2019 (COVID-19) Delta variant and as they wait for the release of economic data and corporate earnings reports.
The bellwether Philippine Stock Exchange index (PSEi) went down by 34.10 points or 0.5% to close at 6,693.83 on Friday, while the broader all shares index lost 45.08 points or 1.07% to 4,137.94.
Week on week, the benchmark index dropped by 141.09 points from its 6,834.92 finish on July 9.
"The downgrade in the Philippines' outlook from stable to negative by Fitch Ratings raised economic worries which in turn weighed on sentiment," Philstocks Financial, Inc. Senior Research Analyst Japhet Louis O. Tantiangco said in a Viber message on Friday.
"The detection of COVID-19 cases with a locally transmitted Delta variant also added fuel to the pessimism," Mr. Tantiangco added.
Fitch last week revised its outlook for the Philippines but kept its investment grade "BBB" rating for the country. A "negative" outlook means the country could get a rating downgrade within the next 12 to 18 months.
Meanwhile, the Health department reported 16 new cases of the Delta variant of COVID-19 on Friday, 11 of which were local infections in Mindanao, Metro Manila, Central Luzon, and the Visayas. Five cases were returning Filipinos abroad.
"Market is getting impatient with extended quarantine measures and slow vaccination and is thus pricing a low growth scenario," First Metro Investment Corp. (FMIC) Head of Research Cristina S. Ulang said in a Viber message on Friday.
Diversified Securities, Inc. Equity Trader Aniceto K. Pangan said he expects the negative sentiment brought by the increased in Delta variant cases in the country to be sustained this week.
"Another factor which may negatively affect the market is the weakening peso as it is seen to discourage foreign investors from parking their funds in the local market," Philstocks Financial's Mr. Tantiangco said in a text message.
"If the peso declines further [this] week, then we may see more foreign fund outflows from the market," he added.
Mr. Tantiangco forecasts tepid trading this week as investors are expected to remain cautious while awaiting the second quarter results of listed companies.
"Upcoming economic data specifically second quarter GDP (gross domestic product) growth, inflation in July, and corporate earnings will help improve sentiment," FMIC's Ms. Ulang added.
"In the coming days, we'll have to monitor how the COVID-19 situation in the country progresses, weighing it against the ongoing vaccination program of the government," Timson Securities, Inc. Trader Darren Blaine T. Pangan said in a Viber message on Saturday. He said expects the index to trade between 6,600 to 7,065 this week. — Keren Concepcion G. Valmonte