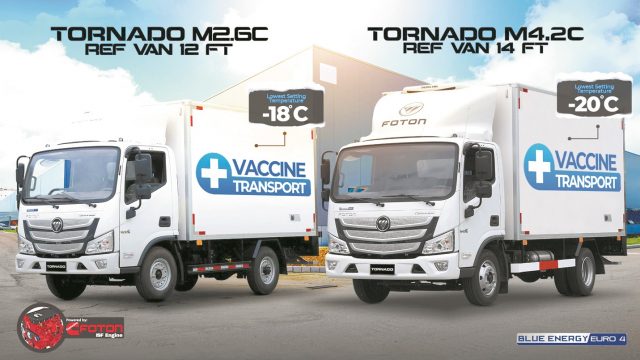 FOTON MOTOR Philippines, Inc. (FMPI), cognizant of the pressing need for refrigerated transport of the COVID-19 vaccines, is proffering truck trims predicated on its Foton Tornado for the job.
The Foton Tornado Ref Van variants are equipped with "the best technologies to bring the vaccine fast, safe, and in its optimal condition to its intended recipients." These are powered by the reliable US-designed Cummins turbo-diesel engine, and are fitted with Thermo King, which pioneered transport refrigeration 80 years ago.
Two models are available. The Foton Tornado M4.2C Ref Van comes with a refrigerated storage area that can go as low as -20 degrees Celsius — said to be a critical temperature for the special purpose of transporting temperature-sensitive vaccines. It can accommodate a payload of 4.2 tons within its 14-foot long body. Its Cummins 3.8L ISF diesel engine generates 154hp at 2,600rpm and 500Nm at 1,200 to 1,900rpm.
Meanwhile, the 12-foot-long Foton Tornado M2.6C Ref Van can maintain temperatures as low as -18 degrees Celsius. The truck is powered by a Cummins 2.8L ISF diesel engine producing maximum power of 129hp at 3,200rpm and maximum torque of 310Nm from 1,300 to 3,200 rpm. Its payload capacity is 2.6 tons; enabling it to "carry thousands of vaccines in a single drive without much hassle and swiftly deliver them to different destinations." Foton added that cargo "will also be properly spaced and placed within its spacious refrigerated body storage secured by a durable mechanical lock."
For more information, call a Foton dealer or the sales hotline at 0999-999-9998 or visit https://linktr.ee/FOTONPhilippines.