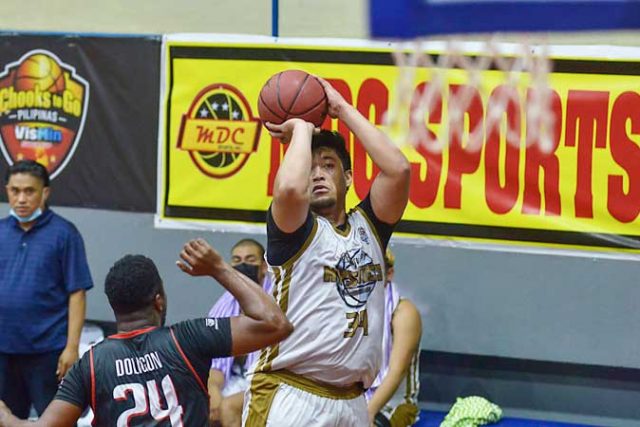 OPENING weekend of new regional basketball league Pilipinas VisMin Super Cup was successfully held with the Visayas leg in the municipality of Alcantara in Cebu.
Geared towards renewing the push to spotlight basketball talents in the south, the tournament, which has roast chicken chain Chooks-to-Go as title sponsor, kicked off with four matches held under strict monitoring on Friday and Saturday at the Alcantara Civic Center.
MJAS Zenith-Talisay City Aquastars were big opening-day winners, pounding on the Tubigon Bohol Mariners (104-66) in the first game of the Visayas leg.
Patrick Cabahug was on fire all game long as he led the way for the Aquastars with 22 points on 9-of-16 shooting. The former Adamson Falcon also had two rebounds, an assist, and a block in a game that was decidedly over by halftime after Talisay City blitzed Tubigon Bohol in the first half for a massive 58-32 lead.
Pari Llagas, meanwhile, paced the Mariners with 19 points, six rebounds, four assists, and three blocks.
In the second game last Friday, KCS Computer Specialist-Mandaue topped the Siquijor Mystics (66-46).
Mandaue led by 20 early, but saw its lead dwindle to as little as five, 42-37, late in the third canto. However, KCS got its act together in the payoff period where it held the Mystics to a mere five points to snatch the win.
Far Eastern University products Gryann Mendoza and Al Francis Tamsi led Mandaue with 17 and 12 points, respectively.
Miguel Castellano was the lone player to score in double-figures for Siquijor with 14 points to go with eight boards and two assists.
On Saturday, the ARQ Builders-Lapu Lapu City Heroes got their VisMin Super Cup campaign off to a good start with a 75-61 victory over the Tabongon Voyagers.
ARQ was up by just eight early in the third canto but turned it on late in that stretch, uncorking 11 unanswered points to build a huge 25-point lead, 63-38, heading to the final period.
The Voyagers could not recover from there.
Big man Dawn Ochea and veteran wingman Reed Juntilla led the way for ARQ with 12 points each, with the former also chipping in seven rebounds and two assists while the latter contributed six assists and three steals.
Jethro Sombero and Peter de Ocampo had nine points each for Tabogon.
In the main game on Saturday, Siquijor bounced back from its opening day loss with a 105-100 win over the Dumaguete Warriors.
Ryan Buenafe, who was held scoreless in their first game loss, stepped up for the Mystics, scoring eight of his total 24 points in the fourth quarter to tow his team to the victory.
The former Ateneo player also had six rebounds and six assists.
Ronald Roy and James Regalado led Dumaguete in scoring with 18 points apiece.
VisMin Super Cup action resumes on April 13.
The tournament, conducted within a Modified General Community Quarantine area, is being held under a "bubble" setup as required by authorities to guard against the spread of the coronavirus.
Only essential personnel are allowed inside the game venue. — Michael Angelo S. Murillo