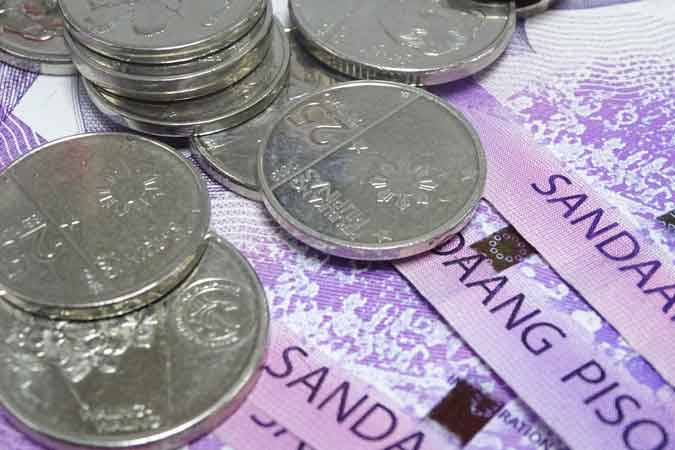 THE peso weakened against the greenback on Monday on cautious sentiment after the extension of the enhanced community quarantine in Metro Manila and nearby provinces.
The local unit finished trading at P48.635 a dollar on Monday, shedding 10.5 centavos from its P48.53 close on Wednesday, data from the Bankers Association of the Philippines showed. Trading was suspended for the Holy Week holidays.
The peso opened the session at P48.55. Its weakest was at P48.64 while its intraday best was at P48.488 per dollar.
The peso's weakness was caused by risk-off sentiment after the extension of the lockdown in Metro Manila and surrounding provinces Cavite, Laguna, Rizal, and Bulacan, said Michael L. Ricafort, chief economist of Rizal Commercial Banking Corp.
Presidential Spokesperson Herminio "Harry" L. Roque on Saturday announced the lockdown extension as healthcare facilities remained overwhelmed due to the rising infections.
COVID-19 infections increased by 8,355 to 803,398 on Monday, with active cases already at 143,726. The country already has the most active cases in the ASEAN followed by Indonesia with 116,709.
Meanwhile, a trader attributed the peso's depreciation to investors' preference for the dollar after the release of an upbeat US jobs report last Friday.
Data from the US Labor department showed nonfarm payrolls increased by 916,000 jobs in March, the biggest gain since August, Reuters reported. In total, the US economy added 1.6 million new jobs in the first quarter.
For Tuesday, Mr. Ricafort gave a forecast range of P48.58 to P48.68 while the trader expects the local unit to move within P48.50 to P48.70. — Luz Wendy T. Noble with Reuters